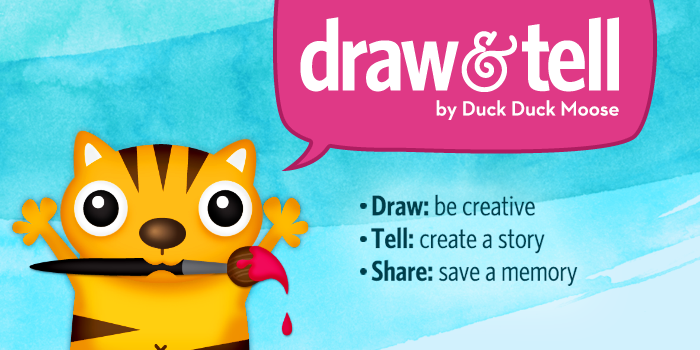 Draw and Tell
Draw and Tell is the best drawing app for kids of all ages. Draw or color, then talk about your drawing. Your memories and voice recording will be saved with your drawing.
DRAW: Be creative!
– 27 crayons, 27 paint brushes, and 27 colored pencils
– 150+ stickers with animals, food, cars, letters, and much more
– Rainbow and glow-in-the-dark crayons!
– 32 papers and 22 patterns
– 60+ Stencils (iPad version only)
TELL: Create a story.
– Talk about your drawing or tell a story
– Move the stickers as you talk
– Save the drawing with recordings to photo album
COLOR & SHARE: Save a memory.
– Coloring pages with favorite Duck Duck Moose friends!
– Save your drawings and recordings to share with friends