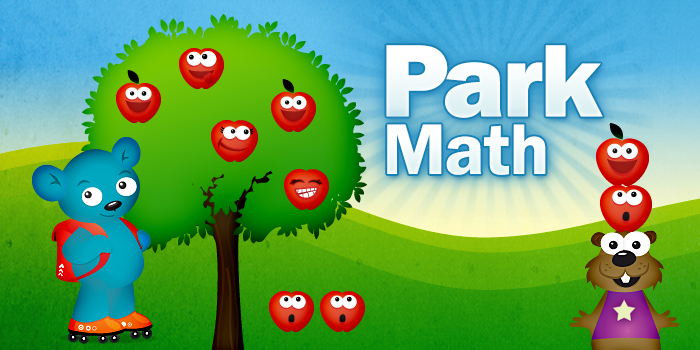 Park Math
Come play at the park, and learn to count, add, subtract, sort and more! Park Math introduces early math concepts to children in Preschool and Kindergarten (ages 2-6).
Join Blue Bear and his friends as they play in the park and learn through 7 fun educational activities:
1. SWING: NUMBERS – Count up to 50 as a rabbit swings.
2. SLIDE: ADDITION – Help ducks climb to the top of a slide and learn how to add.
3. SEESAW: GREATER THAN / LESS THAN – Balance a seesaw by adding and subtracting mice.
4. APPLE TREE: SUBTRACTION – Learn how to subtract as apples fall from a tree.
5. SANDBOX: PATTERNS – Complete the pattern in a sandbox with the correct toy.
6. BENCH: SORTING – Order the dogs from small to large. Order numbers in sequence.
7. PICNIC: COUNTING – Feed a hippo the correct number of food items.
Park Math includes 2 levels for Preschool and Kindergarten. Level 1 includes counting up to 20 and addition/subtraction with numbers up to 5. Level 2 includes counting up to 50 and addition/subtraction with numbers up to 10.
Park Math HD (for iPad) includes a third level for First Grade. Level 3 includes counting up to 100 and addition/subtraction with numbers up to 20.
Instrumental music recorded especially for this app with cello and guitar includes popular nursery rhymes: This Old Man, Skip to My Lou, Five Little Ducks, The Muffin Man, and Here We Go Round the Mulberry Bush.
TIP FOR PARENTS: There are two ways to navigate to different activities:
1) Swipe Blue Bear to make him skate forward or backward.
2) Touch the kites and pick the kite corresponding to the activity.
COMMON CORE STANDARDS: K.CC.1, K.CC.6, K.OA.1, K.OA.2, K.OA.5, K.MD.2, K.MD.3, 1.OA.1, 1.OA.6