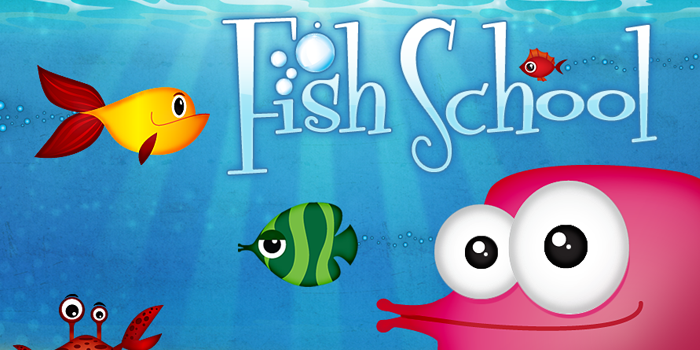 Fish School
8 fun educational activities. Learn with colorful schools of fish which magically transform themselves into different letters, numbers, shapes, colors and more!
Fish School includes 8 fun educational activities:
1. LETTERS – Learn your ABCs! Watch the fish make the letters, and discover that A is for apple…
2. NUMBERS – Learn numbers by counting fish from 1 to 20.
3. SHAPES – Follow the fish as they make different shapes.
4. ABC SONG – Sing this all-time favorite song and watch as the letters change to match the song!
5. COLORS – Pick a swimming fish of any color, and watch the ocean scene transform into that color.
6. DIFFERENCES – Use your sharp eyes and figure out "Which fish does not belong?"
7. MATCHING – Use your memory and find the matching fish.
8. PLAYTIME – Play with a sea of colorful fish and watch what happens when you touch them! Tap a fish to make it swim faster. Drag a fish to move it. Hold down a fish to make it grow bigger!
Music recorded especially for this app includes the all-time favorite ABC Song and Mozart variations on the melody, performed by violin and cello.