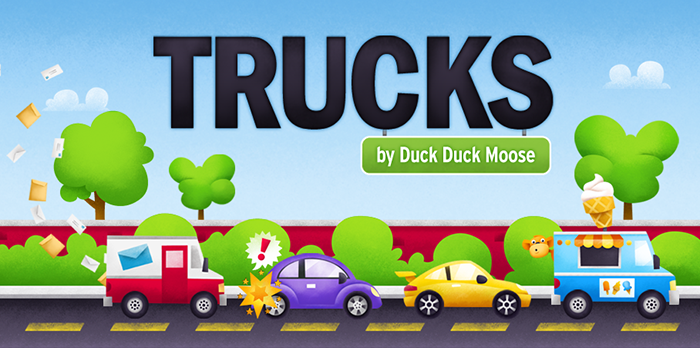 Trucks
Welcome to Trucks! Trucks includes 5 different activities: Soap and rinse a car in a carwash, drive a garbage truck, tow a car with a tow truck and fix a flat tire, dump dirt with a dump truck, and play with a car and truck parade.
CARWASH: Roll a car through the mud, and into a carwash! Clean the car with brushes, soap, and bubbles. Squirt water jets to rinse off your car then dry it off.
TOW TRUCK: Help fix a flat tire. Use a tow truck to take a car to the tire shop. Raise the car up to a platform, change the tires, and choose the hubcap you want!
GARBAGE & RECYCLING: Clean up the street and sort items into garbage, compost, and recycling bins. Learn about garbage and recycling and earn a "Green Score." Dump the correct bin into the garbage, recycling, and compost trucks.
BULLDOZER & DUMP TRUCK: Use the dump truck to create a pile of dirt, then take it away with a bulldozer.
CAR PARADE: Play with a fire truck, ambulance, ice cream truck, cement truck, police car, and much more! Control their speed with by touching the red, yellow, and green signal lights.