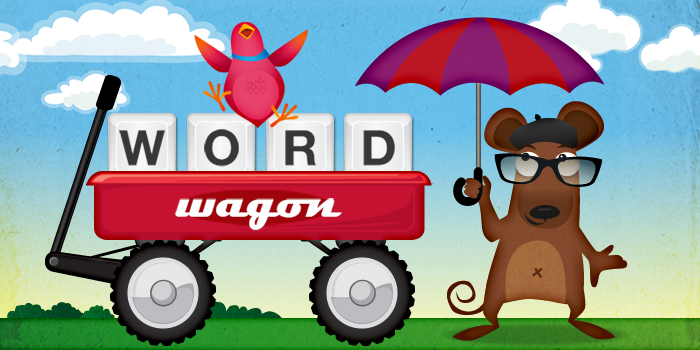 Word Wagon
Join Mozzarella the mouse and his best friend, Coco the bird, as they play with letters, words, and phonics. As they are learning, Mozz and Coco will play hide and seek, dress up as a ghost, put on magic shoes, draw pictures, talk on the phone, and much more. Word Wagon includes 103 words (including 44 Dolch sight words) in 7 categories. (Ages 2-6)
Word Wagon includes 103 words (including 44 Dolch sight words). Choose words from seven different categories: Animals, Food, Vehicles, Numbers and Colors, Around the House, Mozzarella and Coco's Favorites, All Words.
4 Levels for Preschool through Grade 1 (Ages 2-6):
Level 1: Letters – Learn the names of the letters
Level 2: Phonics – Learn the sounds of the letters
Level 3: Spelling I – Spell words up to 4 letters
Level 4: Spelling II – Spell words up to 6 letters
Sticker Rewards: Collect colorful stickers for each word in a sticker book. Touch the animated stickers to hear funny sounds.
Earn Stars: Use stars to make different constellations, which are shaped like animals. Mozzarella the mouse will dress up as an astronaut and float in space!
Common Core Standards: RF.K.1d, RF.K.2d