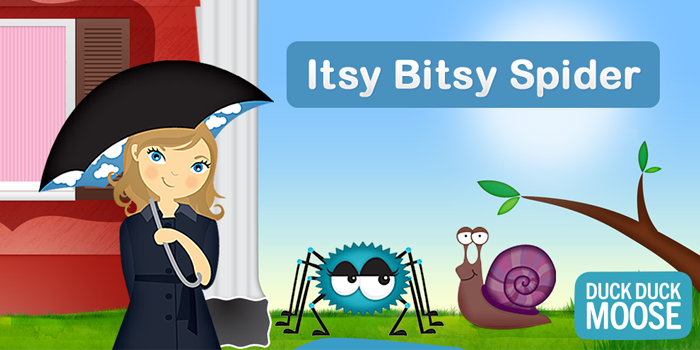 Itsy Bitsy Spider
A musical book based on the popular children's song. Follow the spider through the captivating, inter-connected scenes as he goes up the water spout, comes down with the rain, and watches the sun dry up all the rain.
Delight your children and encourage them to touch and explore everything in the 100% interactive illustrations.
• Poke the spider so he will bring you to the next page
• Make rain come down from the clouds
• Splash in puddles with a little girl in rain boots
• Help a caterpillar become a beautiful butterfly
• Play peek-a-boo with a frog hiding behind tall grass
• And, much more!
Teach your children about the environment, nature and animals. Poke the friendly Fly in every scene, and she will answer 15 fascinating questions like:
• Where does rain come from?
• What makes a rainbow?
• How many legs does a spider have?
• What makes a plant grow?
Engage your children in a variety of learning activities.
• Count from 1 to 10 as a squirrel builds his house
• Find hidden eggs on a scavenger hunt
• Make music with musical eggs that play 12 notes
• Stack hats on the spider's head
• Listen to classical music with violin and cello
• Record your own singing!